Expectation for ECB policy drives EURCHF lower
Posted by Peter Rosenstreich at 28/8/2014
Forex News and Events:
Getting Tricky for the SNB
Strong Swiss data and geopolitical risk have helped the CHF against the EUR. Yet it's the prospect of ECB QE which keep SNB members up at night. EURCHF below 1.2100 suggests a test of the SNB "floor" at 1.2000. Recent central banks rhetoric indicates that the level will be protected by unlimited funds as inflation shows no signs of increasing. However, with a bloated balanced sheet any defence will have to rely on negative interest rates on top of pure CHF selling. That said full blown ECB asset purchase in the tune of €1 or €2trn level will create doubt on the sustainability of the minimum exchange rate. SNB member must be praying right now for a spike in US wage growth.
BoE Tightening - not so fast
Bank of England MPC minutes revealed that for the first time in 3 years there was a split decision on the interest rate vote. This event has some now forecasting November hikes. However, currently 7 out of 9 still believe that tightening would endanger the recovery. Members also believe that as recovery matures, the risk of hikes halting the recovery dissipating and keeping rates low will become less effective. However, we are not sure that members will quickly come around to a hawkish view. Consumer price inflation corrected down to 1.6% in July indicating that June spike was a one-off (downtrend since the middle of last year in consumer price inflation), while H2 growing might not hitting the levels some expected (evidence in yesterday's weaker retails sales). We also expected members to wait until November's inflation report before moving forward. With inflation not a problem, members are less likely to change their vote to start to normalize interest rates.
Thailand and regional FX look interesting
The Thai baht fell as the USD rally started to spread to high-yielding EM currencies. In addition, the baht was not helped by domestic news that the national legislative assembly voted unanimously to select junta leader Prayuth Chan-Ocha as PM. Despite this setback for democracy, with the military government providing much needed stability, domestic demand saw a strong rebound of 10.8% q/q. Thailand reported that Q2 GDP expanded by 0.4% y/y above the market expectations for 0.0%, partially reversing the -0.5% contraction witnessed in Q1. Growth acceleration has been driven partly by China's export demand. In the coming months we suspect that business and consumer sentiment will improve and lucrative tourism will accelerate (especially from mainland China, and in Malaysia). The Bank of Thailand's (BoT) projections for 2014 growth is a soft 1.5%, which given yesterday's read, is under 2.0% which we suspect is possible. Finally, the BoT MPC has most likely finished their easing cycle, keeping repurchase market rates at 2.00% from 3.50%. As growth outpaces regional rivals and confidence in a stronger national balance sheet lures investors, we suspect THB to continue to recover.
We remain highly constructive on the Asian region in general. Regional growth has increase nicely and recovery in the US and China has supported export growth. In addition, domestic demand has now strengthened. Finally, with a more stable environment due following elections in Indonesia and India and the military coup in Thailand, governments can focus energy on financial improvements.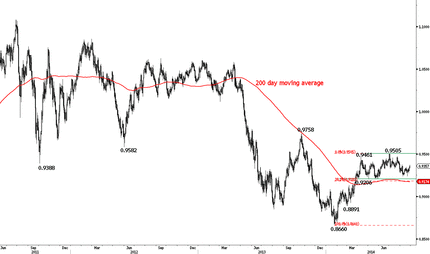 Today's Key Issues (time in GMT):
2014-08-28T07:00:00 DKK Jul Unemployment Rate SA, exp 4.00%, last 4.00%
2014-08-28T07:00:00 DKK Jul Unemployment Rate Gross Rate, exp 5.10%, last 5.10%
2014-08-28T07:30:00 SEK Jul Retail Sales MoM, exp 0.40%, last 0.50%
2014-08-28T07:30:00 SEK Jul Retail Sales NSA YoY, exp 4.30%, last 3.30%
2014-08-28T08:00:00 NOK 2Q Manufacturing Wage Index QoQ, last -0.10%
2014-08-28T08:00:00 EUR Jul M3 Money Supply YoY, exp 1.50%, last 1.50%
2014-08-28T08:00:00 EUR Jul M3 3-month average, exp 1.30%, last 1.10%
2014-08-28T08:30:00 GBP Aug Lloyds Business Barometer, last 52
2014-08-28T09:00:00 EUR Aug Economic Confidence, exp 101.5, last 102.2
2014-08-28T09:00:00 EUR Aug Industrial Confidence, exp -4.5, last -3.8
2014-08-28T09:00:00 EUR Aug F Consumer Confidence, exp -10, last -10
2014-08-28T09:00:00 EUR Aug Services Confidence, exp 3.5, last 3.6
2014-08-28T09:00:00 EUR Aug Business Climate Indicator, exp 0.1, last 0.17
2014-08-28T10:00:00 GBP Aug CBI Reported Sales, exp 27, last 21
2014-08-28T12:30:00 CAD 2Q Current Account Balance, exp -$11.5B, last -$12.4B
2014-08-28T12:30:00 CAD Jun Average Weekly Earnings YoY, last 2.60%
2014-08-28T12:30:00 USD 23.août Initial Jobless Claims, exp 300K, last 298K
2014-08-28T12:30:00 USD 16.août Continuing Claims, exp 2510K, last 2500K
2014-08-28T12:30:00 USD 2Q S GDP Annualized QoQ, exp 3.90%, last 4.00%
2014-08-28T12:30:00 USD 2Q S Personal Consumption, exp 2.40%, last 2.50%
2014-08-28T12:30:00 USD 2Q S GDP Price Index, exp 2.00%, last 2.00%
2014-08-28T12:30:00 USD 2Q S Core PCE QoQ, exp 2.00%, last 2.00%
2014-08-28T14:00:00 USD Jul Pending Home Sales MoM, exp 0.50%, last -1.10%
2014-08-28T14:00:00 USD Jul Pending Home Sales YoY, exp -3.50%, last -4.50%
2014-08-28T15:00:00 USD Aug Kansas City Fed Manf. Activity, exp 7, last 9
2014-08-28T22:00:00 AUD 2Q CBA/HIA House Affordability, last 77.2

The Risk Today:
EURUSD EUR/USD was able to bounce of 2014 lows at 1.3153 yet buying pressure is thin. The technical structure is negative as long as prices remain below the hourly resistance at 1.3297 (22/08/2014 high). A first hourly resistance lies at 1.3220 (25/08/2014 low). A key support stands at 1.3105. In the longer term, EUR/USD is in a succession of lower highs and lower lows since May 2014. A long-term decline towards the strong support area between 1.2755 (09/07/2013 low) and 1.2662 (13/11/2012 low) is favoured. However, in the shorter term, monitor the key support at 1.3105 (06/09/2013 low) given the general oversold conditions. A key resistance lies at 1.3444 (28/07/2014 high).
GBPUSD GBP/USD made an intraday bullish reversal (hammer) on Monday. Coupled with the key support at 1.6460 and the oversold conditions, a short-term rebound is likely. An initial resistance lies at 1.6601 (21/08/2014 high). Other resistances can be found at 1.6679 (see also the declining trendline) and 1.6739. An hourly support lies at 1.6501 (25/08/2014 low). In the longer term, the break of the key support at 1.6693 (29/05/2014 low, see also the 200 day moving average) invalidates the positive outlook caused by the previous 4-year highs. However, the lack of medium-term bearish reversal pattern and the short-term oversold conditions do not call for an outright bearish view. A key support stands at 1.6460 (24/03/2014 low).
USDJPY USD/JPY has failed to hold above the key resistance at 104.13, suggesting a weakening short-term buying interest. A break of the hourly support at 103.50 (22/08/2014 low) would confirm a deterioration of the short-term technical structure. Another support lies at 102.91 (intraday low). A resistance now stands at 104.49 (25/08/2014 high). A long-term bullish bias is favoured as long as the key support 100.76 (04/02/2014 low) holds. The break to the upside out of the consolidation phase between 100.76 (04/02/2014 low) and 103.02 favours a resumption of the underlying bullish trend. Strong resistances can be found at 105.44 (02/01/2014 high) and 110.66 (15/08/2008 high).
USDCHF USD/CHF has broken the strong resistance at 0.9156 but rally faltered at 0.9183. The short-term technical structure is positive as long as the hourly support at 0.9138 (26/08/2014 low) holds. Another support stands at 0.9104 (22/08/2014 low). From a longer term perspective, the recent technical improvements call for the end of the large corrective phase that started in July 2012. The long-term upside potential implied by the double-bottom formation is 0.9207. A key resistance stands at 0.9250 (07/11/2013 high).

Resistance and Support:
EURUSD

1.3549
1.3503
1.3336
1.3207
1.3159
1.3105
1.31
GBPUSD

1.7043
1.6893
1.6845
1.6595
1.65
1.6476
1.646
USDCHF

0.93
0.925
0.9207
0.9134
0.9088
0.9
0.8969
USDJPY

106.53
105.5
104.9
103.76
102.02
101.51
101.07