Forex News and Events
Finally some good news from New Zealand (by Arnaud Masset)
The trade deficit widened in August as imports rose more than expected due to a one-time increase in aircraft purchases. The deficit rose to NZ$1.04bn, the biggest reading since September 2014, well below the market's expected NZ$0.9bn and the revised trade deficit of NZ$0.7bn in July. Imports rose 19.2%y/y to NZ$4.8bn, beating median forecast of NZ$4.4bn, but below July's upwardly revised figure of NZ$4.9bn. On the other hand, exports, driven by a strong increase in beef exports (up 46%y/y), climbed 5.6% to NZ$3.7bn compared to August 2014, beating market expectations of NZ$3.6bn. Given the one-time nature of this wider-than-expected trade deficit, it doesn't modify the fundamentals of the country's trade balance.
After a massive drop in global dairy prices, those strong numbers from the meat industry are more than welcome by New Zealand producers. Moreover, Fonterra (the world's biggest milk exporter) increased its milk price payout forecast to NZ$4.60 per kg of solid milk from NZ$3.85 as production volume got hit by weak dairy prices. Traders cheered the news and this helped the Kiwi to hold ground against the dollar and to extend its gains against the Aussie.
Draghi drops new hints (by Yann Quelenn)
At yesterday's ECB meeting, President Draghi appeared worried. He stated that some more time was needed to appraise the risks which would trigger an increase in the current quantitative easing program. This is the second time of late that Draghi has hinted about the possibility of monetary easing being stepped up. Of course it is not the current recession and the global Eurozone labour market that keep Mario Draghi awake, but rather the lingering low oil prices and the recent turmoil in the global markets. These outside conditions have the potential of increasing downside pressure to both Eurozone inflation and growth. This would provoke an expansion of the asset programme.
The inflation and growth forecasts have already been lowered this month as the odds increase of an official announcement of a QE increase. However, the ECB remains very optimistic about the future success of quantitative easing as was the case with U.S. and Japan. Many European countries have massive debt-to-GDP ratio whose debt, in most cases is unsustainable. Before being able to grow, reimbursing debt should be the first priority. We anticipate the EURUSD to weaken in the medium term as markets are still expecting a Fed rate hike. 1.1000 represents a decent target.
Swissquote Sqore Trade Ideas: http://en.swissquote.com/fx/news/sqore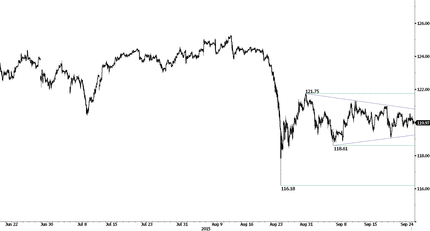 | Today's Key Issues | Country / GMT |
| --- | --- |
| Jul Retail Sales MoM, last -0.30% | EUR / 09:00 |
| Jul Retail Sales YoY, exp 0.80%, last 1.70% | EUR / 09:00 |
| ECB Announces TLTRO Allotment | EUR / 09:15 |
| Sep FGV Consumer Confidence, last 80.6 | BRL / 11:00 |
| Central Bank Quarterly Inflation Report | BRL / 11:30 |
| Aug Unemployment Rate, exp 7.70%, last 7.50% | BRL / 12:00 |
| Aug Chicago Fed Nat Activity Index, exp 0.24, last 0.34 | USD / 12:30 |
| U.S. Data to Be Released on Website Due to Pope's Visit | USD / 12:30 |
| sept..19 Initial Jobless Claims, exp 272k, last 264k | USD / 12:30 |
| sept..12 Continuing Claims, exp 2240k, last 2237k | USD / 12:30 |
| Aug Durable Goods Orders, exp -2.30%, last 2.00%, rev 2.20% | USD / 12:30 |
| Aug Durables Ex Transportation, exp 0.10%, last 0.60%, rev 0.40% | USD / 12:30 |
| Aug Cap Goods Orders Nondef Ex Air, exp -0.20%, last 2.20%, rev 2.10% | USD / 12:30 |
| Aug Cap Goods Ship Nondef Ex Air, exp 0.50%, last 0.60% | USD / 12:30 |
| Central Bank Currency Swap Auction Results | BRL / 12:45 |
| ECB's Dickson Speaks in Amsterdam | EUR / 13:00 |
| sept..20 Bloomberg Consumer Comfort, last 40.2 | USD / 13:45 |
| Aug New Home Sales, exp 515k, last 507k | USD / 14:00 |
| Aug New Home Sales MoM, exp 1.60%, last 5.40% | USD / 14:00 |
| Sep Kansas City Fed Manf. Activity, exp -6, last -9 | USD / 15:00 |
| Aug Total Jobseekers, exp 3552.3k, last 3551.6k | EUR / 16:00 |
| Aug Jobseekers Net Change, exp 0.5, last -1.9 | EUR / 16:00 |
| ECB's Praet Speaks in Zurich | EUR / 16:45 |
| Sep Consumer Confidence, last 102 | KRW / 21:00 |
| Fed Chair Janet Yellen to Deliver Lecture at Amherst | USD / 21:00 |
| Aug Eight Infrastructure Industries, last 1.10% | INR / 22:00 |
The Risk Today
EURUSD EUR/USD has breached the support at 1.1248, confirming an underlying downtrend since the near term peak at 1.1438. Strong support can be found at 1.1017 (18/08/2015 low). Strong resistance lies at 1.1714 (24/08/2015 high). In the longer term, the symmetrical triangle from 2010-2014 favored further weakness towards parity. As a result, we view the recent sideways moves as a pause in an underlying declining trend. Key supports can be found at 1.0504 (21/03/2003 low) and 1.0000 (psychological support). We have broken the resistance at 1.1534 (03/02/2015 reaction high). We are entering an upside momentum.
GBPUSD GBP/USD has broken the support at 1.5385 (uptrend channel) and the support implied by key hourly support given at 1.5330 has been broken (15/09/2015 low). Hourly resistance can be found at 1.5659 (27/08/2015 high). Stronger support is given at 1.5165 (04/09/2015 low). In the longer term, the technical structure looks like a recovery bottom whose maximum upside potential is given by the strong resistance at 1.6189 (Fibo 61% entrancement).
USDJPY USD/JPY is moving in either direction around the 200-day moving average. Hourly support is given at 118.61 (04/09/2015 low). Stronger support can be found at 116.18 (24/08/2015 low). Hourly resistance can be found at 121.75 (28/08/2015 high). A long-term bullish bias is favored as long as the strong support at 115.57 (16/12/2014 low) holds. A gradual rise towards the major resistance at 135.15 (01/02/2002 high) is favored. A key support can be found at 118.18 (16/02/2015 low).
USDCHF USD/CHF has bounced back on the hourly resistance given at 0.9824 (09/09/2015 high). On the very short-term term, the technical structure is setting lower highs. However we remain bullish in the medium-term. In the long-term, the pair has broken resistance at 0.9448 suggesting the end of the downtrend. This reinstates the bullish trend. Key support can be found 0.8986 (30/01/2015 low).
Resistance and Support:
EURUSD

1.1714
1.1561
1.1330
1.1209
1.1017
1.0809
1.0660
GBPUSD

1.5930
1.5819
1.5659
1.5260
1.5165
1.5089
1.4967
USDCHF

1.0676
1.0240
0.9903
0.9754
0.9513
0.9259
0.9151
USDJPY

135.15
125.86
121.75
119.93
118.61
116.18
115.57