Disclaimer
Our systems have detected that you are using a computer with an IP address located in the USA.
If you are currently not located in the USA, please click "Continue" in order to access our Website.
Local restrictions - provision of cross-border services
Swissquote Bank Ltd ("Swissquote") is a bank licensed in Switzerland under the supervision of the Swiss Financial Market Supervisory Authority (FINMA). Swissquote is not authorized as a bank or broker by any US authority (such as the CFTC or SEC) neither is it authorized to disseminate offering and solicitation materials for offshore sales of securities and investment services, to make financial promotion or conduct investment or banking activity in the USA whatsoever.

This website may however contain information about services and products that may be considered by US authorities as an invitation or inducement to engage in investment activity having an effect in the USA.

By clicking "Continue", you confirm that you have read and understood this legal information and that you access the website on your own initiative and without any solicitation from Swissquote.
Research
Market strategy
by Swissquote Analysts
Daily Market Brief
Chancellor Merkel's CDU party to elect new leader today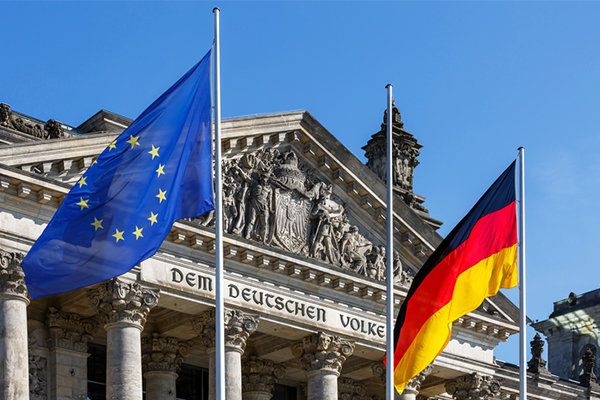 Chancellor Merkel's CDU party to elect new leader today
German politics is in flux. The Grand Coalition of the CDU, CSU and SPD parties has weakened following regional elections in October that saw CSU leader Horst Seehofer having to step down. Now, Chancellor Angela Merkel's party, the CDU, is turning a new page. Three candidates are running for the job of party leader amid tensions within the country and a revival of populist parties. The center-right bloc can count on less than 30% support among the electorate compared to 41.50% in the 2013 general election as both the Greens and the far-right Alternative for Germany have gained traction.
After more than three decades at the service of her party, Angela Merkel confirmed in October that she would not run for the party leadership again and would end her chancellorship by 2021. The result is today's CDU conference, which takes place at 3 p.m. in Hamburg , where 1,001 delegates will select her replacement. Three candidates are running for the role and the popular preference is for Merkel's preferred nominee, CDU general secretary Annegret Kramp-Karrenbauer, with businessman Friedrich Merz in second place in the polls. Many delegates are still undecided and the presentations of the candidates before the assembly today will be critical.
We don't expect the outcome to play a key role on the future direction of the party overall, however. Accordingly, as the focus of market participants largely remains on the OPEC meeting and the UK Brexit debate, the vote will not be decisive in the direction of the single currency. Currently trading at 1.1369, EUR/USD is heading along 1.1360 short-term.

Just when you thought that US President Donald Trump could not mismanage trade policy or his administration any further, we get Huawei's chief financial officer being detained at a Canadian airport on a US extradition request. This come on the heels of sensitive US-China relations and a temporary truce in the so-called trade war in the wake of the G20 dinner discussions in Argentina.

As expected, Beijing is furious, demanding Meng Wanzhou's release and declaring the arrest a human right violation. While Trump claims that he had no knowledge of the impending arrest when he met with China's President Xi Jinping, news has broken that John Bolton, his National Security Advisor, was aware of it. Reuters has indicated that the arrest was connected to an alleged scheme to evade US sanctions again Iran using the global banking system, which some claim is controlled by the US.

Inevitably, market reaction was extremely negative (S&P 500 suffering one of the largest single-day drops of the year) and it was saved only by rumors that the Fed might consider slowing the pace of rate hikes. Hopes that a full deal could be reached in 90 days seem like a pipe dream now. It is unlikely that the public disrespect shown by the US will be forgotten quickly. In addition, mixing business with politics is a dangerous business but one that China is well versed in. With the global growth outlook already weak, expectations for a full-blown US-China trade war will only hurt further. The US yield curve is moving from flat to negative on the short end but the trend is towards a full inverted curve indicating a US recession.
Our prediction for a weaker USD in 2019 will be supported by lower yields in the long term.