Disclaimer
Our systems have detected that you are using a computer with an IP address located in the USA.
If you are currently not located in the USA, please click "Continue" in order to access our Website.
Local restrictions - provision of cross-border services
Swissquote Bank Ltd ("Swissquote") is a bank licensed in Switzerland under the supervision of the Swiss Financial Market Supervisory Authority (FINMA). Swissquote is not authorized as a bank or broker by any US authority (such as the CFTC or SEC) neither is it authorized to disseminate offering and solicitation materials for offshore sales of securities and investment services, to make financial promotion or conduct investment or banking activity in the USA whatsoever.

This website may however contain information about services and products that may be considered by US authorities as an invitation or inducement to engage in investment activity having an effect in the USA.

By clicking "Continue", you confirm that you have read and understood this legal information and that you access the website on your own initiative and without any solicitation from Swissquote.
Research
Market strategy
by Swissquote Analysts
Daily Market Brief
Wall Street Rebounds, Commodities Are Slipping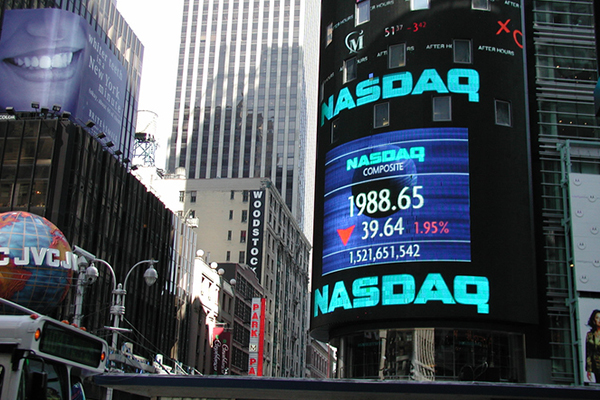 Wall Street Rebounds, Commodities Are Slipping
Wall Street bounced back on Tuesday, after four consecutive bearish sessions. The bulls pushed equities higher despite the delay in new stimulus to be adopted by Congress and a rapid increase in the number of COVID cases.
The rebound was driven by tech stocks, with Amazon surging over 5.5% after Bernstein upgraded the company stock to 'outperform', citing more active premium subscribers and merchants. Elsewhere, Apple, Google's parent and Microsoft gained no less than 1.5%.
Thus, Nasdaq was the best performer on Tuesday, securing a gain of 1.71%. The S&P 500 and Dow rose by 1.05% and 0.52%, respectively. Seven out of 11 sectors tracked within the S&P 500 index closed higher, with IT and consumer discretionary enjoying the highest returns.
Oracle couldn't benefit from the general bullishness, slipping 0.3% after a Chinese newspaper said that the local government wouldn't approve the software giant's proposed deal to acquire stake in ByteBance's TikTok in an effort to handle US operations together with Walmart.
Tesla dropped 5.6% after CEO Elon Musk said that some of the key innovations presented at the "Battery Day" are several years away.
Nike shares surged in regular and after-hours trading after the company reported its Q1 performance that beat even the most optimistic forecasts. The stock was up 3.1% at close and over 8% after hours.
Asian stocks are mixed on Wednesday, as the markets are gradually switching to the bullish tone triggered by Wall Street.
At the time of writing, China's Shanghai Composite is up 0.32% and the Shenzhen Component has edged up 0.45%. US-China tensions are in the spotlight again, after US President Donald Trump told the UN General Assembly that China is to be blamed for "unleashing" the new coronavirus on the world. China accused Trump of lying and exploiting the UN platform. Still, Chinese President Xi Jinping told UN delegates that he had no intention of getting stuck in either a Cold War or a hot war with any country.
Japan's Nikkei 225 is down 0.08% in its first trading day of the week, but the index is departing from daily lows and might close higher. South Korea's KOSPI is up 0.17% after an initial decline.
Hong Kong's Hang Seng Index is down 0.17%.
In Australia, the ASX 200 has surged 2.42%. Border restrictions between Queensland and New South Wales are easing as the country has managed to contain the second wave of the coronavirus.
In the commodity market, all prices are flashing red. Oil prices are declining, as the American Petroleum Institute (API) reported that gasoline stocks in the US dropped by about 7.7 million barrels, which is eight times lower than the expected figure. The decline suggests that the US demand for oil is not recovering. Both WTI and Brent are down over 1%. Also, surging cases in the UK, Spain, and France are adding to worries that demand for oil would be even more affected by the pandemic. The US Energy Information Administration will release data on oil inventories later today.
Gold is extending the bearish trend on Wednesday, dropping to the lowest level since the end of July. The metal is now down 1.49% to $1,879 per ounce.
Gold is losing ground as the US dollar continues to increase. The American currency is supported by robust US housing market data and a weaker euro amid a rapid increase in COVID infections in Europe. Existing homes sales in the US surged to over 6 million in August, the highest figure in 14 years.
Thus, the USD Index is up 0.22% to 94.225, the highest since the end of July. EUR/USD is down 0.18% to 1.1684. Greece and Denmark are introducing new social distancing measures, and many European countries might follow, including Spain and France.
The pound has declined against both the US dollar and the euro, as UK Prime Minister Boris Johnson was forced to impose new restrictive measures to curb the rapid spread of the coronavirus. GBP/USD is about to test 100-day and 200-day moving averages. Meanwhile, the pessimism over Brexit talks persists.