Disclaimer
Our systems have detected that you are using a computer with an IP address located in the USA.
If you are currently not located in the USA, please click "Continue" in order to access our Website.
Local restrictions - provision of cross-border services
Swissquote Bank Ltd ("Swissquote") is a bank licensed in Switzerland under the supervision of the Swiss Financial Market Supervisory Authority (FINMA). Swissquote is not authorized as a bank or broker by any US authority (such as the CFTC or SEC) neither is it authorized to disseminate offering and solicitation materials for offshore sales of securities and investment services, to make financial promotion or conduct investment or banking activity in the USA whatsoever.

This website may however contain information about services and products that may be considered by US authorities as an invitation or inducement to engage in investment activity having an effect in the USA.

By clicking "Continue", you confirm that you have read and understood this legal information and that you access the website on your own initiative and without any solicitation from Swissquote.
Research
Market strategy
by Swissquote Analysts
Live Analysis
Boomerang comeback hits Tesla share price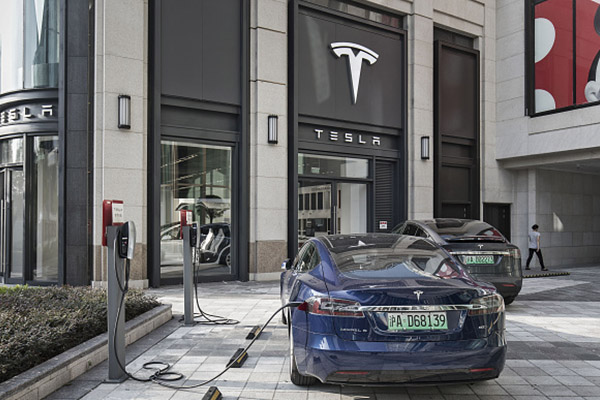 The episodic rise in CEO Elon Musk's electric vehicle company Tesla share price faces limits as net sellers spur a bearish trend after prices reached all-time high of $967.51 intraday. As the SEC ruling on short selling is in effect in an attempt to mitigate downward pressures due to increased short selling, it seems that large Tesla shorts are finally taking the upper hand. Although the Silicon Valley-based EV manufacturer modestly surpassed expectations for its 4Q 2019 revenue report, with revenue of $7.38 billion (consensus: $7.06 billion) and EPS of $2.14 (consensus: $1.74) while announcing in its 2020 guidance a rise of a third in vehicle sales to half a million (2019: 367'000), it looks like retail investors have their convictions. The latter is all the more true when considering purchases of 12'000 Robinhood brokerage firm accounts purchasing Tesla's share for the first time on Monday 3 February 2020 following the earnings release, with a stock price closing at $780 the same day, a major frenzy that turned out contradictory to analysts' opinions, favoring either neutral or negative views.
Yet the sudden upward momentum seen in Tesla's share price remains an unknown as short positions for the period considered (~17.55% of the float) remained stable and at its lowest range since IPO, suggesting that confidence in the company's growth potential stays untouched. Still, headwinds are expected to stay strong in Q1 and a good chunk of Q2 2020 as a large part of the 2020 strategy should be driven by a ramp up of Tesla's Giga Shanghai factory (max. capacity of 500K units in its final development stage), although Chinese authorities' order to shutdown factories is still in place while stores in mainland China are momentarily closed.
In the context of shrinking vehicle sales due to China's slowing economy and market saturation, combined with the Coronavirus outbreak, it appears that OEMs require to optimize their cost structure by leveraging local supply chain relationships while diversifying activities. This is the case of Tesla, which is expected to increase its car fleet after signing a new contract with Gemany's Brandenburg state to operate a Gigafactory in Europe ("Tesla Giga Berlin" or "Gigafactory 4") by July 2021, with construction set for early 2020 and estimated capacity of 500K vehicles. Furthermore, solar and storage deployments solutions are expected to support the expansion accordingly. For now, Tesla appears more than overvalued (P/E estimated along 108 vs. GM and VW along 5.55 and 5.80 respectively), with expectations of a downside trend in price ranging between 10% – 50%. There are definitely better entry points to consider along Q2 2020.