Disclaimer
Our systems have detected that you are using a computer with an IP address located in the USA.
If you are currently not located in the USA, please click "Continue" in order to access our Website.
Local restrictions - provision of cross-border services
Swissquote Bank Ltd ("Swissquote") is a bank licensed in Switzerland under the supervision of the Swiss Financial Market Supervisory Authority (FINMA). Swissquote is not authorized as a bank or broker by any US authority (such as the CFTC or SEC) neither is it authorized to disseminate offering and solicitation materials for offshore sales of securities and investment services, to make financial promotion or conduct investment or banking activity in the USA whatsoever.

This website may however contain information about services and products that may be considered by US authorities as an invitation or inducement to engage in investment activity having an effect in the USA.

By clicking "Continue", you confirm that you have read and understood this legal information and that you access the website on your own initiative and without any solicitation from Swissquote.
Research
Market strategy
by Swissquote Analysts
Live Analysis
SMI Breaks 10k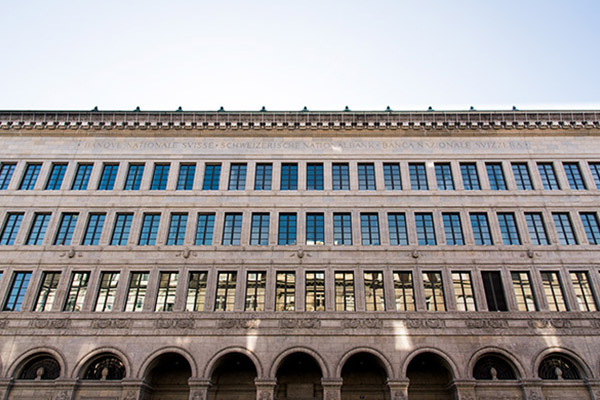 In a historic event, the leading Swiss Market Index (SMI) broke through the 10'000 point mark for the first time. We may never know the precise reason why traders are now rushing into sleepy alpine equities, but looking at external events, we can get some idea of the logic behind this move. We suspect that a highly probable driver is expectations that the Swiss National Bank will further loosen its ultra-easy monetary policy. Many are now saying: "but the weakness in the Swiss economic outlook and central banks threatening further action is nothing new. Why the sudden stampede into all things CHF?"
Agreed, but these facts are now accompanied by an expected loosening on the part of major central banks. The SNB can hardly make policy decisions in isolation.
Switzerland's small open economy is heavily influenced by external forces. These signals generally point to how the SNB must act. Like the search for the Higgs boson at CERN, the object is not to "see" the elementary particle, but detect a certain pattern around it that indicates its existence.
In an unprecedented reversal, the Fed has gone from three hikes in 2019 to signalling interest rate cuts in July. The markets are now pricing in dovish action from the Bank of Japan and the Bank of England. But most critically for Switzerland, their closest neighbour, the European Central Bank, has now opened the door to deeper negative interest rates and setting additional unorthodox policies.
Let's not forget that the removal of the EUR/CHF minimal exchanges rate (i.e. the abrupt shift in SNB policy) was due to expectations that the ECB would take interest rates into negative territory.
Against a decent economic backdrop of forecast 2019 GDP growth of 1.6%-1.9%, and a lagging P/E ratio, we may be tempted to quote fundamentals as a rationale for the outperformance of Swiss stocks. However, we suspect yield-seeking behaviour is the strongest momentum driver.

Within this context of global banks easing and pushing yields lower, and Swiss yields significantly negative for the foreseeable future, investors need to seek yields in stocks, as there is simply no other source for yields. The SMI has advanced 21% YTD, outpacing its European peer indices in the UK, Germany, Italy and France. This is due to demand for dividend flows, with the added benefit of investing in safe-haven assets in the midst of a trade war, with the likes of Nestle, Novartis and Roche. With a dividend yield of 3.0%, Novartis looks attractive for risk-averse, yield-seeking players. There is the marginal risk of Swiss names being cut off from EU investors, but the risk is slim despites threats.
In addition, Swiss markets have a board range of large capitalised defensive names, perfect for investors worried about the global economic slowdown and a potential trade war.
That said, the heavy weighting of a few names in the SMI causes distortion (see the individual names above).
Finally, the Swiss franc is in a strong position in periods of risk aversion and start of Fed easing cycle. Given the country's historical political stability, faith in the financial system and the strong current account surplus, investors are willing to take a risk, even when penalised by negative rates. Yet, with the EUR/CHF now at 1'1080, the SNB might have something to say about the overvalued CHF, with physical FX intervention.
There is a natural inclination to believe that when stocks rally quickly they automatically must reverse (mean-reversion philosophy is common in investors thinking). However, with central banks' sustained loose policies constricting global yields for an extended period of time, yield-seeking behaviour will dominate for the foreseeable future. Risk premiums be damned, anything for yield. Where better to hide from macro threats than picturesque Switzerland in the summer?

| | |
| --- | --- |
| Open | |
| Close | |
| High/Low | / |
| Volume | |
| Market | |
| Ask | |
| Bid | |